Foodex at the 2022 Sake Fair "Salon du Saké" in France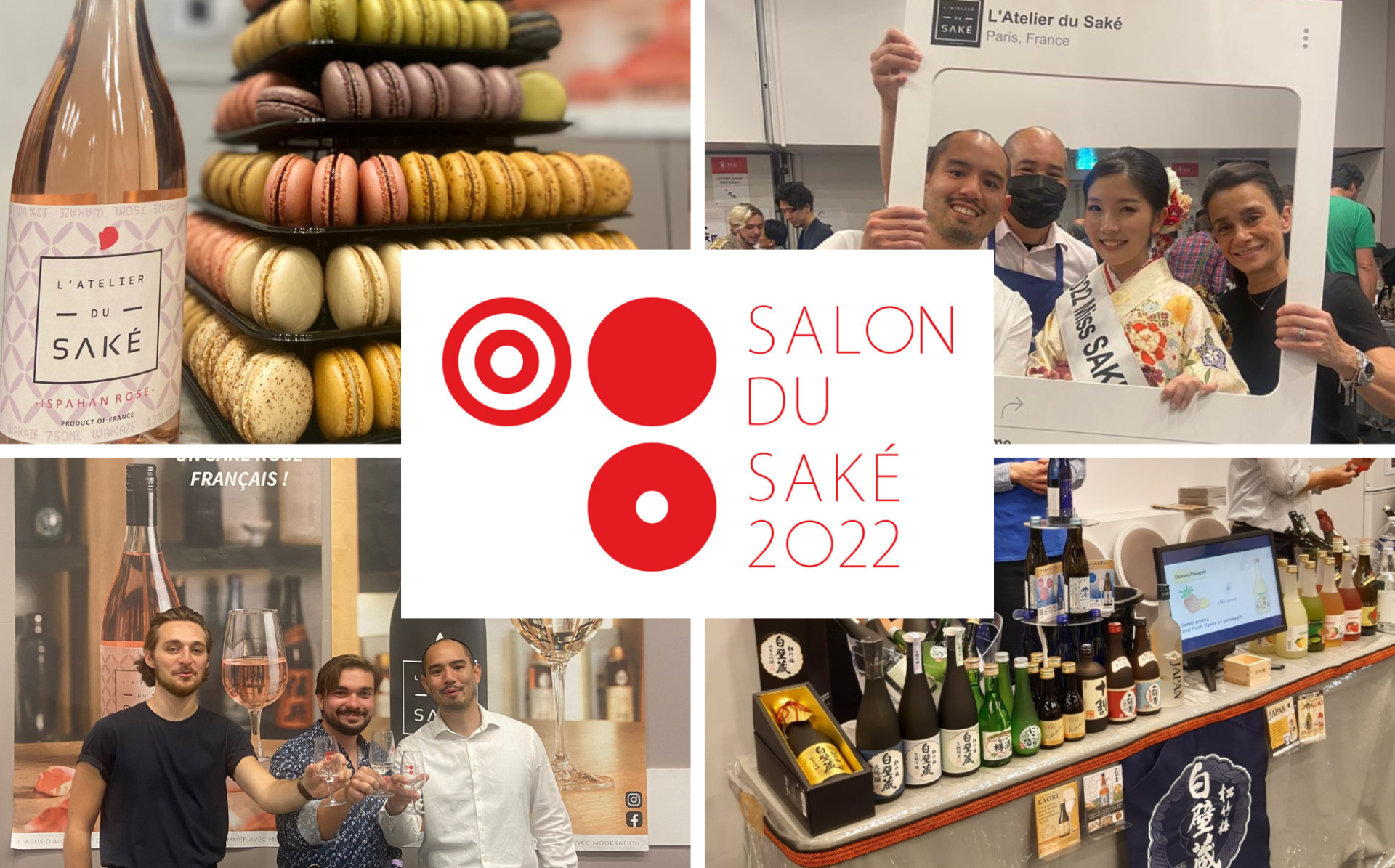 From October 1st to October 3rd 2022, Foodex was once again present at the Salon du Saké in Paris.
During three days, our team presented our wide range of :
– Japanese sakes and spirits from Takara Shuzo, the parent company of the Foodex Group, as well as from microbreweries sourced from the North to the South of Japan.
– Sakes from our entity l'Atelier du Saké, a consulting and training service dedicated to Japanese sake for Foodex customers. 
A look back at this major sake event in Europe!

Historical

meeting place

around

Japanese

sake

:
This year again, the Foodex team welcomed professionals and individuals to present them the best of Japanese sakes during these three days of exhibition. A big thank you to all the visitors from different backgrounds and origins who came to meet us and discover a little more about this drink. 
We are proud to be a major player in sake and happy to see that it is becoming familiar to Europeans!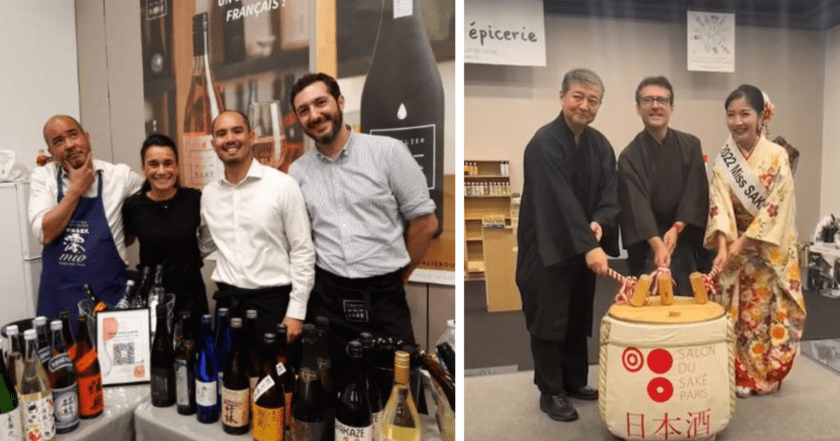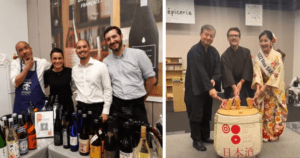 Images: The opening ceremony of the show (photo credit Salon du Saké) and the Foodex team on its booth at the Salon du Saké. 
A presentation of our key products and new products:
Ispahan Rose

from

L'Atelier du Saké x

Wakaze

:

an innovative and local

sake
The collaboration of L'Atelier du Saké with Wakaze did not go unnoticed. Our first Daiginjo bottle is brewed in Japan, with a European design to democratize sake and make it accessible. For our second bottle, we wanted to offer a locally brewed sake, adapted to local needs. Thus, a sake with a rose color, flavored with Ispahan Rose and brewed by Wakaze, seemed to us to be the must-have. 
Mio and Mio Dry by Takara Shuzo: the ultimate sparkling sake

 
We no longer present our Mio and Mio Dry which have become the must-have sparkling sakes. Festive and light, their bubbles continue to seduce both professionals and individuals. 
Takara Shuzo's Japanese flavored alcohols: the allies for original cocktails

 
With flavors directly inspired by the regions of Japan: Matcha and Yuzu from Kyoto, Strawberry from Fukuoka and White Peach from Yamanashi, these drinks can be enjoyed both straight and in cocktails.  
Kaori by Takara Shuzo: a fruity sake that goes well with all types of dishes
The public of the Salon du Saké was able to discover a premiere of our new sake Kaori, straight from Kobe. With its very fruity aromas, it exalts the pleasure of daily Japanese and Western meals.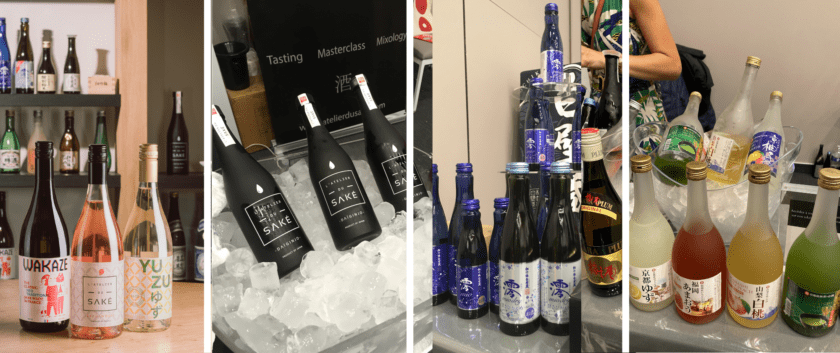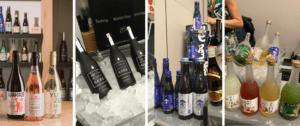 Images: The new Wakaze range including the Ispahan Rose bottle in collaboration with L'Atelier du Saké, Daiginjo bottles from L'Atelier du Saké, Takara Shuzo sakes including the sparkling Mio and Mio Dry, the range of Japanese flavored alcohols from Takara Shuzo. 
Food and sake pairing suggestions:

 
On the last day of the show, our sommelier Maryam Masure suggested pairings between macaroons, Japanese finger foods and L'Atelier du Saké x Wakaze's Ispahan Rose to professional visitors. A convincing and fun way to serve sake, which met with great success.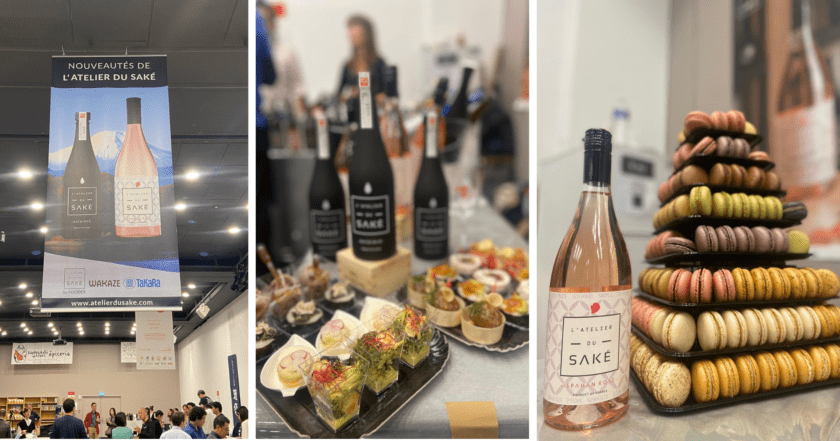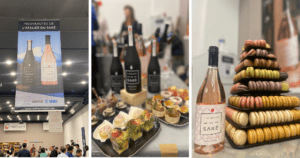 Images: Pairing of macaroons, Japanese appetizers and our sake offered during the Sake Show. 
For more information about our sake and related services, visit L'Atelier du Saké website!
Follow us on social networks to keep up with our upcoming events!