The 5 food service trends in Europe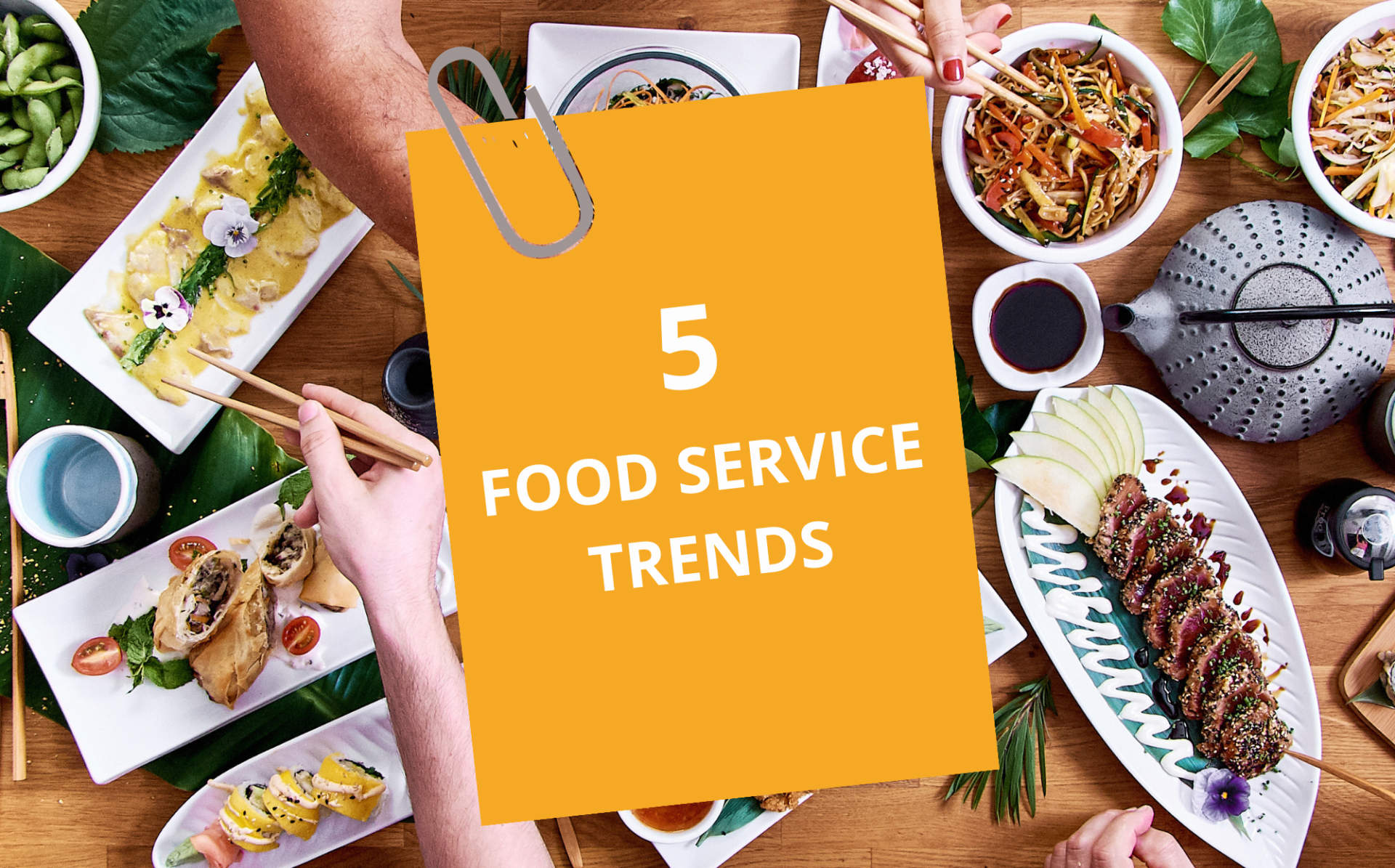 What will be the growth drivers for the restaurant industry in the coming years? What actions should be taken in your restaurant to anticipate market changes?
Let's take a look at 5 key trends that are shaping the European restaurant industry today and tomorrow.
1 / Snackification: diversifying consumption moments
Expanding the offer to new moments such as breakfast, brunch or afterwork represents a real growth lever for restaurateurs.
The snacking concept is no longer perceived as an extra between meals but as a real moment of mealtime, especially among the younger generations, who are the trend bearers. This is proven in France, where the snacking sector has grown by 145% in twelve years.
Until now, the snacking offer was the panacea of supermarkets and takeaways. Now, we see that snacking fans are looking for this offer in restaurants (on site).
This has led to the rise of tea time, snack offers and aperitifs available à la carte at any time of the day.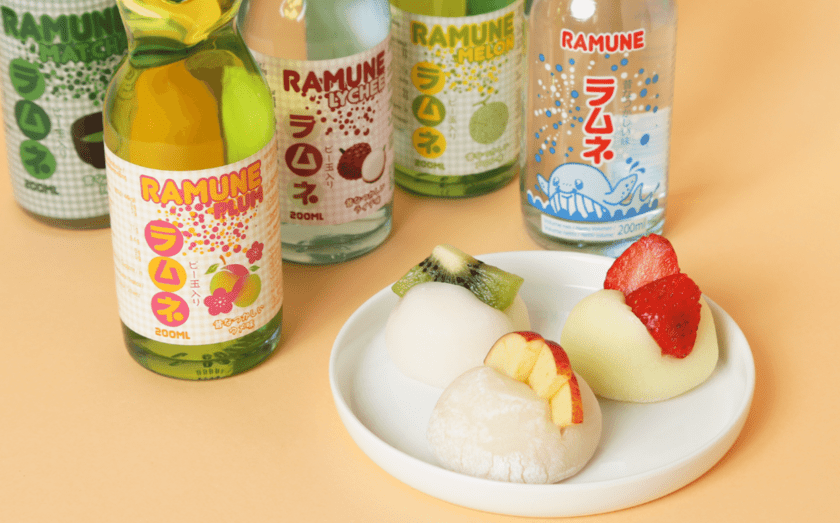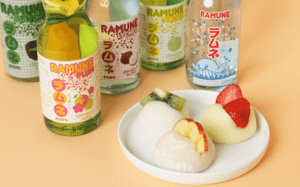 2 / Delivery: a service that has become unavoidable for restaurants
The advent of snacking also marks the advent of delivery: now you can eat anywhere, anytime.
More than a simple trend, delivery has become a permanent fixture since 2020 with the various lock down and closures of restaurants to the public.
The proof is the multiplication of dark kitchens creations in recent years. By 2030, these "ghost kitchens" are expected to represent 50% of the takeaway and delivery market share in the world.
Difficult to make at home and easy to transport, sushi is a flagship dish for takeout and delivery.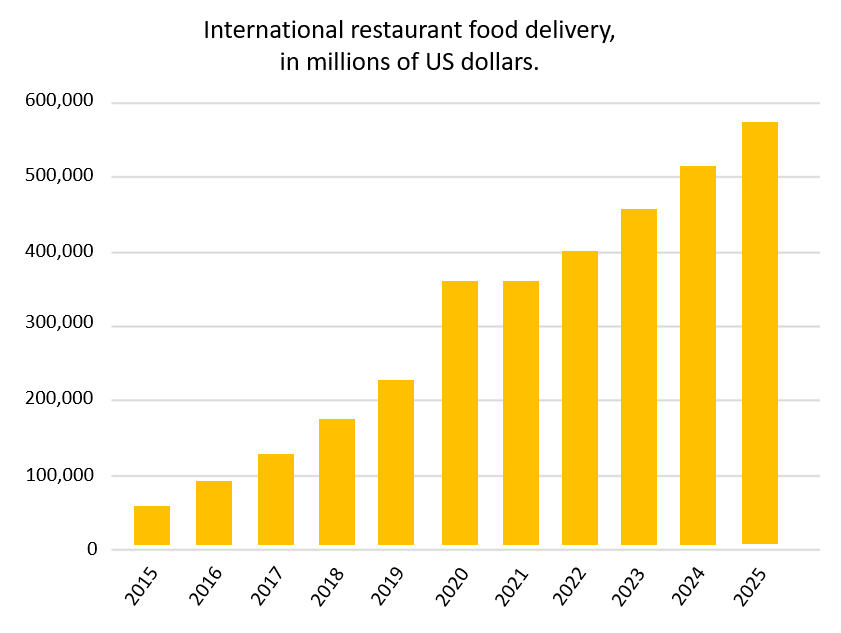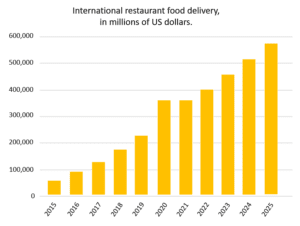 Graph: the weight of international delivery.(Euromonitor International, 2021)
3 / Local sourcing: an ethical and practical issue
From the consumer's point of view, buying local is perceived as an act in favor of the environment and as a support to the national economy. It is also seen as a guarantee of quality and reliability. In 2021, 28% of consumers say they prefer local products and 70% say they pay more attention to the quality of their food (sustainable, organic…).
From the point of view of food service providers, in addition to environmental issues, sourcing locally is a way to secure the supply chain. In a world of changing political and economic stakes, it is safer and faster to source nationally or continentally.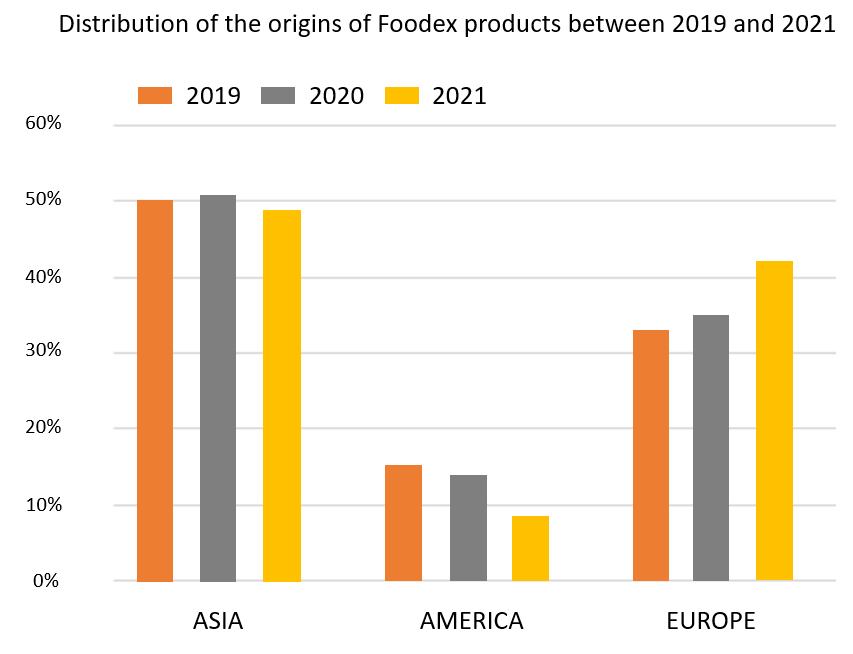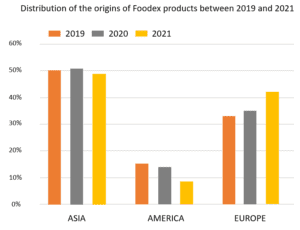 Graph: distribution of Foodex products' origins. (Foodex, 2021)
4 / The taste of travel (without PCR test)
Since 2020, the health and political contexts have strongly limited tourism. The need for a different way of life has shifted to the consumers' meals, with an increase in the demand for world cuisine.
Among the different cuisines of the world, Japan still holds a special place in the hearts of Europeans. With more than 15.5 million hashtags on social networks in 2020, it is one of the most popular cuisines among Generation Z and millenials.
Terumi Shinozaki, communications and marketing manager for the Foodex Group explains that "even if sushi remains the most popular Japanese dish, other recipes that were previously less known are becoming must-haves. This is the case for ramen and curry products for which we are experiencing strong sales growth in Europe." This shows that consumers are thinking outside the box and looking for new flavors from elsewhere!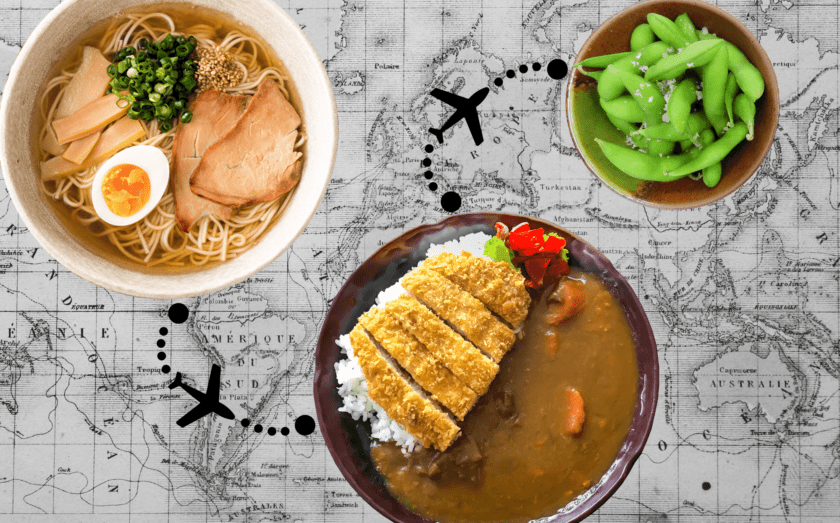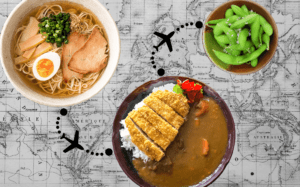 5 / Loyalty: the customer at the center of all concerns
In a society whose markers have been disrupted by Covid, consumers need more proximity, human contact and reassurance. In the restaurant industry, this need is reflected in the fact that customers are more attached to their "good spots" and "neighborhood restaurants".
It is therefore essential for restaurant owners to capture the attention of their customers and build loyalty over time by creating a close relationship.
This can be done through loyalty offers, interactions on social networks, customizable menus adapted to each person's diet or personalized words to accompany each delivered order.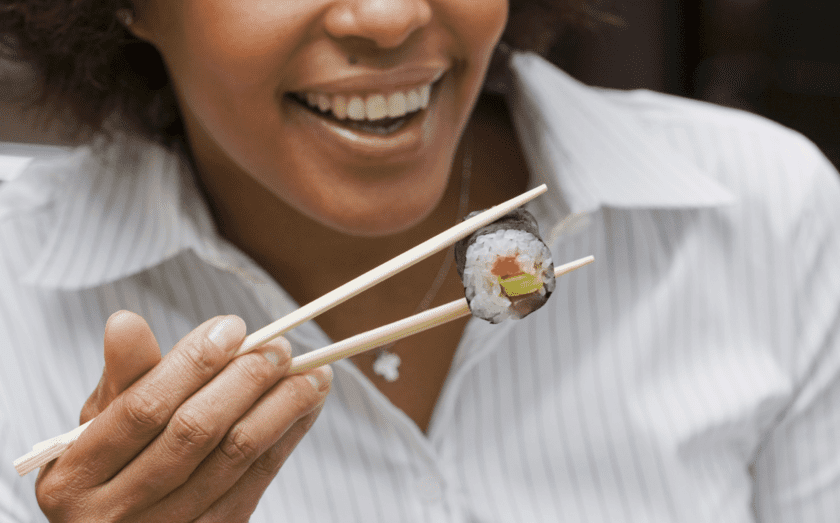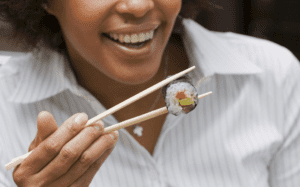 At Foodex, our purchasing and marketing teams work to offer you products that are in line with market trends.
Do not hesitate to discover them in our catalog and to discuss them with your sales representative!
Sources : Cabinet Gira Conseil, 2017 / Statista, 2021 / Euromonitor International, 2021 / Chef's Pencil, 2021 / Foodex, 2021.