Recipe: Gua bao filled with ice cream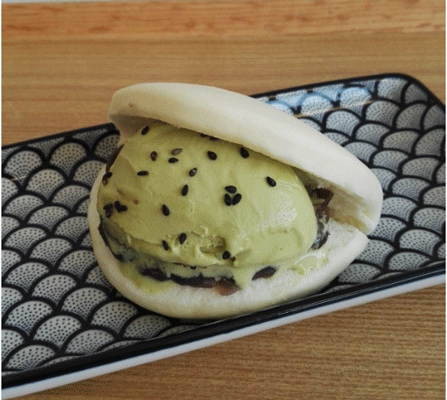 Ingredients
1 bao bread
5 g of sweet red bean paste (tsubuan)
1 scoop of green tea or sesame ice cream
Black sesame seeds
Preparation
Step 1:
Heat a bao bread and fill it with the red bean paste.
Step 2:
Add a scoop of ice cream, sprinkle with sesame seeds and serve immediately.
Alternative:
Fry the bao bread in oil before filling it.
About gua bao
Gua bao is a snack consisting of a soft, half-circular loaf of bread to be filled as you wish.
"Gua bao" literally means "cut bread" (刈包) in Chinese. It is also nicknamed by the Taiwanese "ho-ka-ti" (虎咬豬), literally "tiger biting the pig", the shape of the bread evoking the mouth of the tiger biting the filling (traditionally pork-based).
Adopted by the Japanese as "hirata buns", gua bao is now a staple of Asian street food.