05 December 2022
Products
Practicality, ecology, legislation: how to choose the right food packaging as a professional?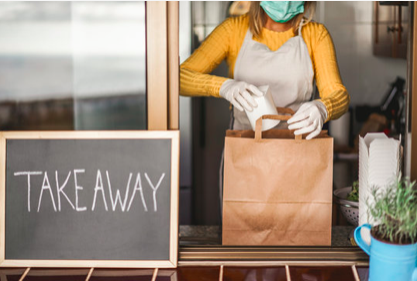 In the current context marked by strong economic, environmental, health and legislative issues, it is complicated as a professional to choose packaging for takeaway sales.
In this article, you will find a summary of important information to know about the market as well as practical questions to help you to choose the best packaging for your business.
1/ Understand the context and challenges of the food packaging industry

The food packaging industry weighs on the environment
The manufacture of packaging depletes natural resources and the waste generated pollutes the soil and the oceans.
It's no longer a secret: the oil used to produce plastic packaging is not an infinite resource. Even if the date of the end of oil resources is difficult to predict, we must now find more sustainable alternatives to plastic packaging.
In reaction to this situation, cardboard, fiber or plant-based packaging is experiencing a strong increase. Be careful though: carbon-free packaging is not necessarily more sustainable. Their production requires large cultivable areas which often involve soil depletion, pollution and the use of large quantities of water.
The question of the end of life of these food packaging represent a problem too
Thrown wildly, they pollute the soil and the oceans, impact ecosystems and ultimately represent a danger to human health.
Even when thrown in the appropriate bins, they cannot always be recycled. Today, sorting centers are not all as efficient and recycling remains a very complex process. For example, some recyclable materials are no longer recyclable when combined with others in packaging, some packaging colors (including black) are difficult to detect by sorting machines, etc.
Faced with these strong environmental challenges, the packaging industry tries to renew itself and innovate from year to year. The government is also taking measures for a more sustainable and less polluting economy.
The European Union is taking steps to limit single-use plastic packaging
Faced with this major ecological problem, the European Union is taking decisions to limit the use of single-use plastic packaging.
Current directives aim to limit the production of packaging waste and promote reuse, recycling and other forms of waste recovery. One of the key objectives of these directives is that all plastic packaging on the European market must be recycled or easily recycled by 2030.
Each country in the Union decides on the measures it takes locally to achieve these objectives. Legislation differs from country to country.
You can consult the website of the European Union Commission for more information.
As well as local government websites to know the rules of your country.
Consumers demand more environmentally friendly products
European consumers are increasingly aware of these environmental issues and are sensitive to the commitments of companies in favor of more ecological packaging.
Communication efforts are implemented by various institutions to raise awareness of sorting, recycling and waste reduction in general.
Consumers are increasingly better informed, but there are still many gray areas for them, linked to the difference in rules from one region to another and the complexity of technical information (which material is recyclable in which way and in which case…)
Restaurant owners therefore have a role to play in communicating with end customers about the nature of their packaging and sorting and recycling instructions.
2/ How to choose the right food packaging as a professional?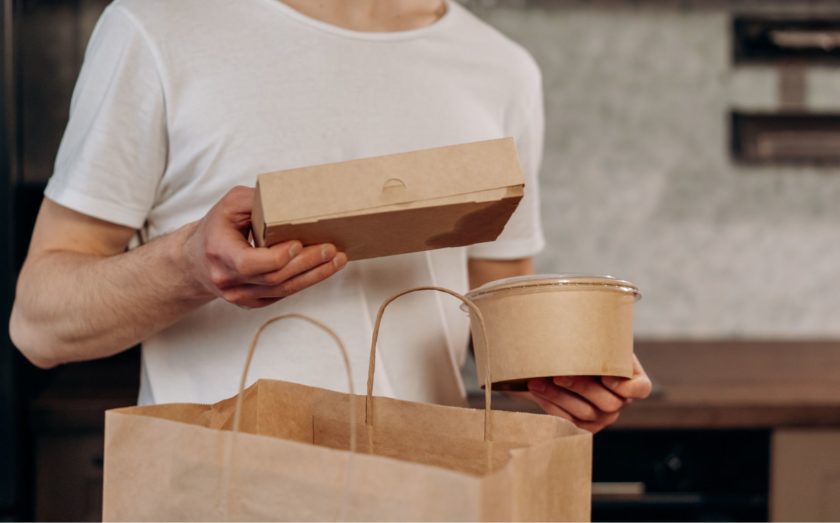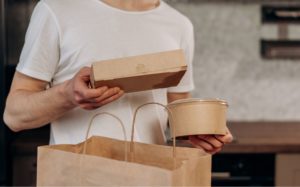 A good food packaging is first of all the one that meets your needs
Between legislative constraints, customer expectations and your restaurant's needs, it is difficult to find your way around and make informed choices for your takeaway.
One of the first steps to avoid being overwhelmed by all the information is to define your practical needs and the expected qualities of the packaging.
This means choosing a package according to the type of dish (hot/cold, solid/liquid) it contains, according to the use (transport, display, plate) and according to the duration of use (longer or shorter delivery time, longer or shorter display time, etc.).
Some examples of criteria to take into account :
Micro-waveable
Waterproof
Anti-humidity and non-stick
Solidity (shock resistance, possibility to stack the boxes…)
Good visibility of the content (transparent and anti-fog window…)
Assembly time of the packaging (ready to use or not)
Storage space (takes little space in your storeroom or not)
When your packaging choice sends a message
The choice of packaging you make for your restaurant is not neutral in the current context. It is a way to affirm your ecological commitments.
Ecology is a very vast subject, behind which are hidden many definitions.
It can be interesting to ask yourself a certain number of questions to clarify your vision and that of your customers.
What is your vision of ecology? How important is ecology for your corporate image? What measures do you want to take and how much of your budget do you want to allocate to them?
Is your customer base ecologically aware? What does environmentally friendly packaging mean to your customers? (Is it packaging made of recycled materials? Recyclable packaging? Biobased packaging? A deposit system?)
Are you environmentally conscious? What does sustainable packaging mean to you? (Is it packaging made of recycled materials? Recyclable packaging? Biobased packaging? A deposit system?)
Each packaging has its advantages and disadvantages. Some packaging that you consider more responsible may have fewer practical advantages. Weigh the pros and cons and see which practical aspects are essential to you and which you don't want to compromise on.
What budget can you allocate to more sustainable solutions and how can you make this investment pay off (both financially and in terms of your brand image)?
The materials available for your food packaging
Now that your needs and vision are clear, let's take a look at the existing solutions on the market.
There are several materials for food packaging. Below is a list of the main ones.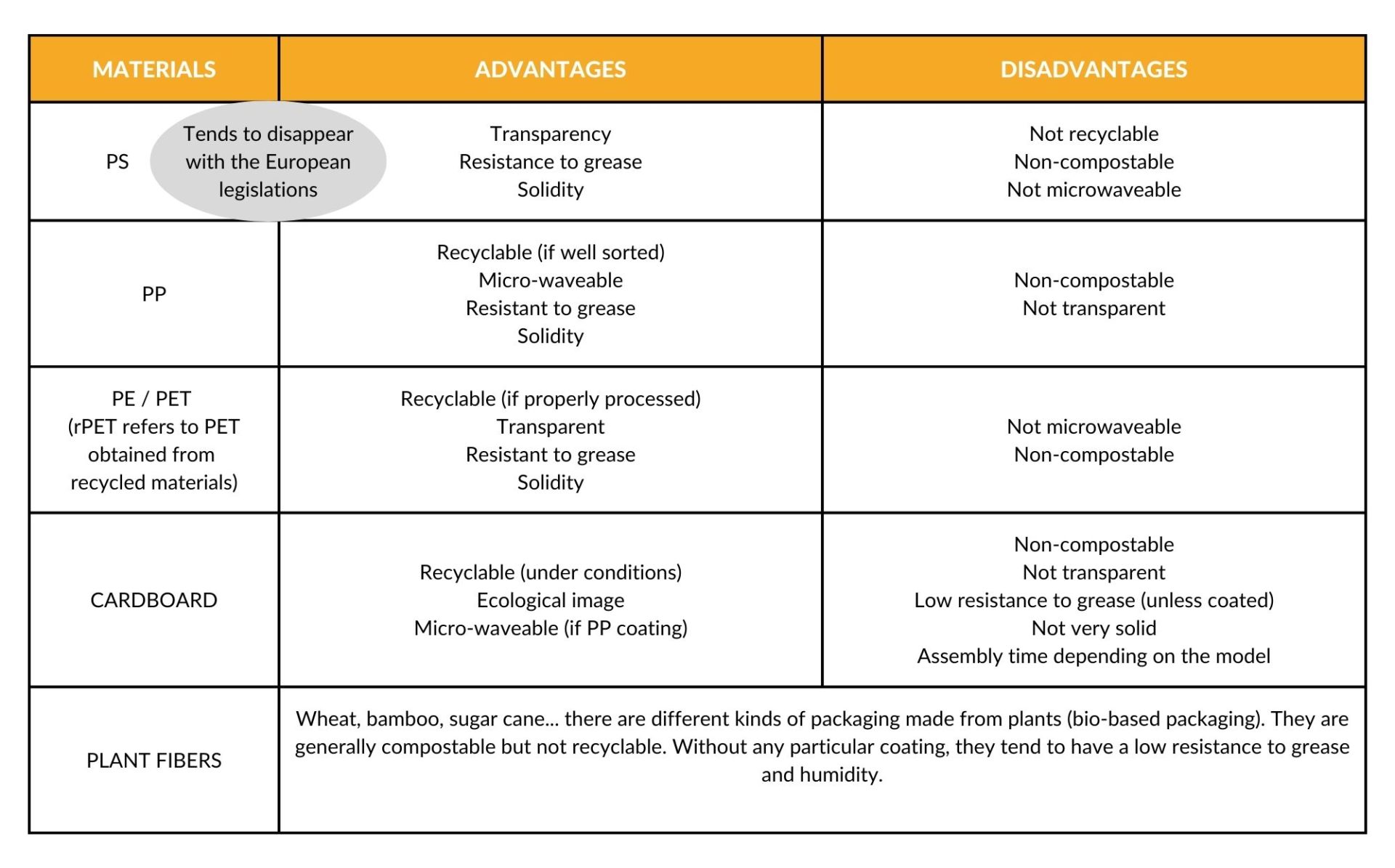 3/ Foodex accompanies you in your choice of food packaging
At Foodex we offer you packaging made of different materials: PP, rPEt, vegetable fibers, cardboard… to meet all your needs!
Do not hesitate to consult our catalog and contact us for more information. Our sales team will be happy to assist you in your considerations.